CRAZY RICH PETS ∙ PET ALL DAY
What Do Cats Think About: Deadly or Devoted?
You're not a real cat owner until you've asked yourself "I wonder what my cat is thinking about right now." Even better, until you've actually asked your cat directly.
If you're dying to know the answer, you're in the right place. We've consulted with a few cats and checked in with a few experts, and this is what they all told us (check science below fun gifs).
1. If I just stare at my human for 5 full minutes without blinking, will he sleep with the lights on tonight? – Jude Paw, 2 years old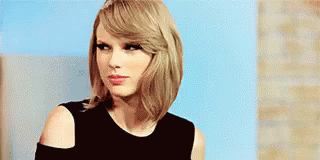 (Source: Tenor)
2. I wonder what will happen if I eat this piece of string. – Catalie Portman, 7 years old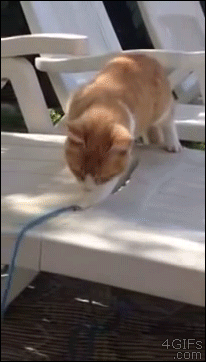 (Source: Forgifs)
3. Are all humans as gullible as mine? – Fuzzinator, 5 months old
(Source: Giphy)
4. One day, everyone who has ever called me cute while I was mad will be sorry. – Lucifurr, 4 years and 2 months old
(Source: Showpo)
5. Pooping is nice. – Meowly Cyrus, 10 years old
(Source: Imgur)
6. I don't understand why smashing my head against a door repeatedly doesn't open it. – Margaret Scratcher, 9 months old
(Source: Huffington Post)
7. What was that? A piece of fluff? A beam of light? A ghost? – Anderson Pooper, 3 years and 3 months old
(Source: Gifer)
8. I just threw up in my human's shoes as a sign of love, and now she's mad at me. How is this fair? – Kit Cat, 5 years old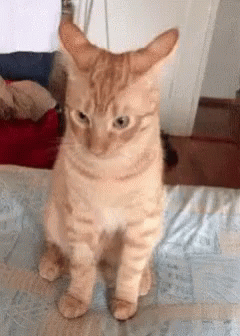 (Source: Tenor)
9. No one understands my struggles. – Sir Lancelot La-Tuna, 12 years old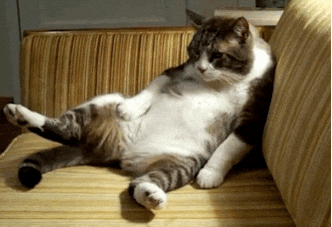 (Source: Giphy)
10. Yes, I lick my own ass. What's your special power? – Emily Lickinson, 8 months old
(Source: Imgur)
11. It's day 8 of trying to catch the red dot and all my attempts have proven futile. – Chew-bacca, 6 years and 1 month old
(Source: Cheezburger)
12. Human insists on reprimanding me when I drink water from the toilet. How rude. – Marie Purrie, 3 years and 7 months old
(Source: Imgur)
13. How am I expected to eat if my bowl is not full to the brim? – Hairy Potter, 4 months old
(Source: Tumblr)
14. I should just run around this room really fast at 4 AM, I heard that's the best time for your morning jog. – Twinkle Toes, 9 years old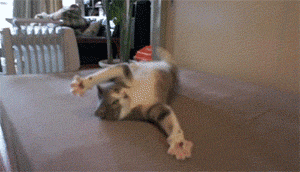 (Source: Giphy)
15. OMG someone's at the door, this is how we die! – Oedipuss, 3 years and 7 months old
(Source: WiffleGif)
16. Can I PLEASE just be left alone? – Puma Thurman, 2 years old
(Source: Giphy)
17. Give me attention now or else I will wake you up in the middle of the night. Just kidding, I'm gonna do that anyway. – Catagonia, 1 year and 1 month old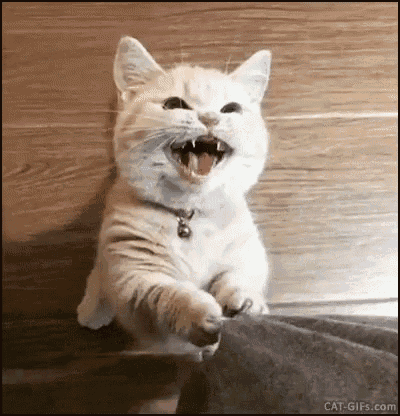 (Source: Tenor)
18. Did you miss me? I didn't. – Oprah Whisker, 9 years old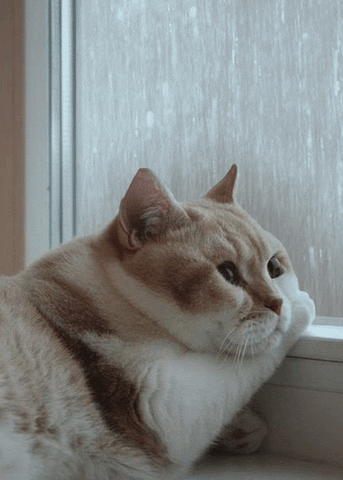 (Source: Giphy)
19. I'm not an efin dog, human, I will not stand for your shit. – Luke Skywhisker, 7 months old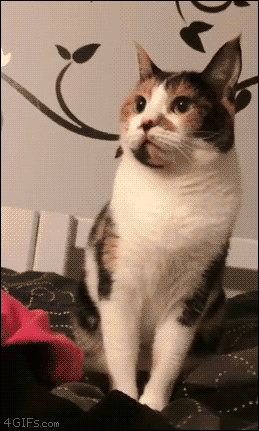 (Source: 4GIFs)
20. I could knock this vase down. I won't. But I could if I wanted to. – The Great Catsby, 5 months old.
(Source: Huffington Post)
21. I don't like this new, expensive scratching post you've bought me. I'm gonna keep using the couch, thank you very much. – Catzilla, 2 years and 8 months old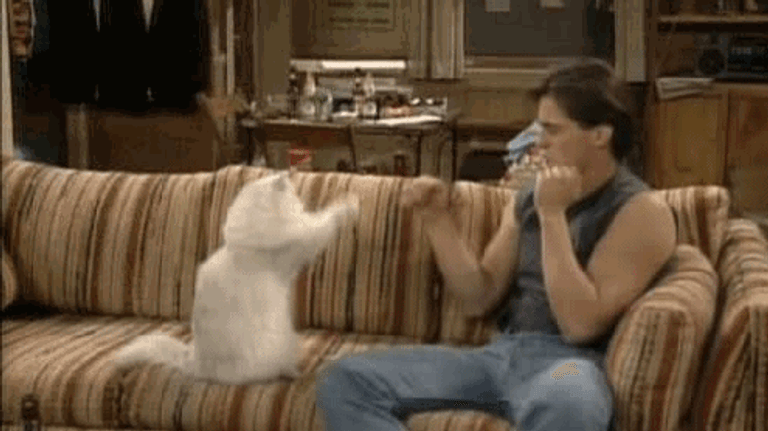 (Source: Giphy)
22. I want to take a nap, I'm so tired from all this sitting around all day long. – Kitty Kitty Bang Bang, 4 years old.
(Source: Tenor)
23. What is that weird white fluff falling from the sky? Let me out, let me out, I wanna see. Nope, nope, nope, no thank you. – Babaganoosh, 5 years and 2 months old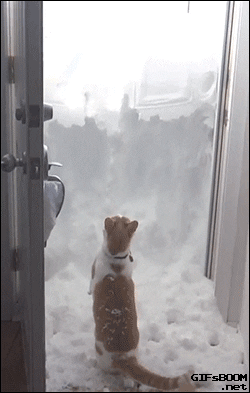 (Source: Giphy)
24. Falalalala lala la la. I'm so unfazed by you, hooman! – Ebefleazor Scrooge, 8 months old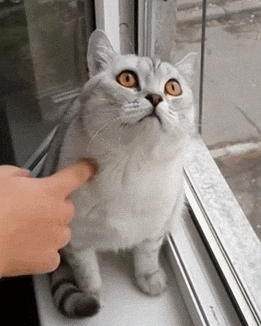 (Source: Giphy)
25. My butt is amazing, more people should see it up-close. – Bink-Bink, 12 years old
(Source: Tik Tok)
26. Following my human everywhere and being offended when I get stepped on is my religion. – Catsey Cline, 3 months old
(Source: Tenor)
27. No seriously, I hate you all. – Pawsanova, 3 years and 9 months old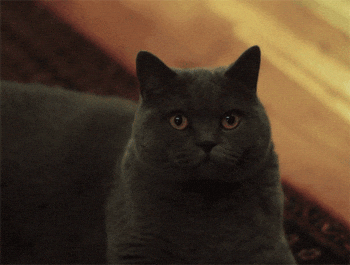 (Source: Giphy)
What Do Cats Actually Think About?
A Developing Science
If you were hoping some scientist or researcher has the miracle answer to "What do cats think about?", we're sorry to say the world is not there yet, but a few hypotheses are thrown around.
The field of cat behavior consulting is quite new, and we still have a lot to learn about cats, their thinking patterns, and their behavior.
That said, there are two notable names that come to mind when discussing cat behavior, and those are Pam Johnson-Bennett and Mieshelle Nagelschneider.
13 Situations in Which We Want to Know What Cats Think About
1. When They Gaze Out the Window
I don't know about your cat, but mine tends to do that very often. His gloomy little face while staring out the window has made me wonder multiple times if I'm not being extremely cruel to keep him indoors all the time.
Well, as it turns out, cats are not bored when they stare out the window. In fact, they do that because they're predators who enjoy observing things outside, waiting for prey to come close enough for them to catch it.
2. When They Turn Their Backs to Us
If you're tired of staring at your cat's butt wondering if they hate you, you shouldn't fret. They don't lie with their backs to us because they can't bear the sight of us, but because they need to always keep an eye out for their surroundings.
The fact that they don't feel the need to keep an eye on you is in fact a good sign. That's how you know your cat is comfortable around you and doesn't consider you a threat.
3. When They Headbutt You, Purr, and Show Affection
Not many moments are as precious as your cat headbutting you or rubbings against your legs. If you live for those moments, we have both good and bad news for you.
While some researchers say that these are indeed signs of affection and that your cat truly loves you back, others insist that cats manifest this way only in order to get what they want.
For instance, when they rub against your leg, they might just be marking you as their human, and when they purr, they might just want you to feed them or play with them.
Then again, even if that is true, do we actually mind being used by cats this way? I know I don't.
4. When You Catch Them Doing Something Bad
We all think we know that guilty look on the face of our cat when we catch them doing something they're not supposed to be doing. But is that really guilt?
According to Johnson-Bennett, it's not. Instead, what they're experiencing is fear, because they can see you are angry, and they expect to be reprimanded.
5. When They Stare at Humans
I've had many a sleepless night wondering if my cat is plotting my death due to his intense stares. Turns out, I needn't have worried.
Cats only stare at humans so much because they like to observe them and their habits. That way, not only do they learn the best ways to deal with their humans, but they also think they're learning things from a mother figure since to them, we are a mother substitute.
In fact, according to John Bradshaw, author of "Cat Sense," cats see humans basically just as larger, hairless cats, albeit clumsy ones. So the next time you see your cat staring at you, know they're probably thinking how strange this ginormous cat is behaving.
6. When They Yowl When You're Not in the Room
Sometimes, when I go into the bedroom to sleep (a room where my cats are not allowed), they tend to yowl as if I've left them forever.
If your heart breaks at the sound of that, as mine has in the past, know that they're most likely not extremely sad that you're gone, but they've just learned that yowling will probably get you out of the room.
7. When They Choose a Preferred Human
Are you your cat's favorite human? Then you've been blessed. But also, you know they're just using you because they know you're the weakest link, right?
Typically, when cats choose a human they prefer to hang around, it's because that human is the one to feed them, play with them, or otherwise attend to their each and every whim.
8. When They Refuse to Leave the House
If you've ever had to take your cat with you anywhere, you know the struggle of making it go into the carrier and sit in the car without losing its shit.
The reason why they don't like that is not that they don't enjoy going away with you, but because they are more home-bound than dogs, for instance. They prefer to stay put due to their territoriality.
They also don't need you as much as dogs do, since they are more autonomous and less dependent on humans.
9. When They Meow
Now, meowing can mean a lot of things, depending on the tone, frequency, and so on. However, adult cats only meow at humans, not at other cats. 
When your cat gives you a short meow, that means they're probably just saying hello. Multiple meows show excitement, while drawn-out ones are usually a demand.
Not to mention cats that communicate to humans as if they were humans themselves, like the ones in the compilation below.
10. When They Wag Their Tail
It's true that most times when cats angrily wag their tail, they are bothered by something (probably you), but tail wagging can be a sign of affection as well.
If your cat's tail is hoisted in the air, and just its tip is wagging, this means the cat thinks of you as a friend.
11. When They Bring You Dead Animals
Is your cat bringing you dead birds as a gift? Sort of. It's more like they feel they have to do it because you aren't smart enough to fend for yourself.
So, the next time your cat comes home with a "gift" proudly hanging from their mouth, you should consider yourself lucky that they care enough for you to make sure you also eat.
12. When They Try to Retrieve a Toy From Under the Couch
This has everything to do with object permanence, which cats understand. When a toy rolls under the couch, even if it's not in their visual field anymore, cats are still aware that the toy exists under the couch, which is why they often try to retrieve it.
13. When You Call Their Name
While your cat can hear you call out their name, they don't seem to care that much whether it's you or another person calling them, or care enough to come to you, for that matter.
But if you think they hate you, don't cry just yet. According to a study from Oregon State University, cats actually prefer the company of humans to other cats, food, and even catnip. When they love you more than catnip, you know it's true love.
Wrap up
While there are studies out there that may suggest cats are deadly, evil beings who plot the demise of humanity, cat owners such as myself would beg to differ. As long as cats receive the love and affection they deserve, they will love you back.
They might not be as enthusiastic about it as dogs are (after all, they were domesticated much later), but that's what makes cats so great for people who are rather cat-like themselves. Mind you, I'm only talking about domestic cats here since different felines have different personality types.
So, are cats deadly or devoted? Our verdict? Devoted. I wanna hear yours as well, so leave me a comment below.
Article written by Andreea Voicu
Hi, I'm Andrea and I'm a writer, editor, geek, couch potato, and most importantly, animal lover. I have been proudly owned by my two cats, Sherlock and Smokey, for 2 years, and I am by no means ashamed to admit I am a crazy-cat-lady-to-be. How did my love for animals start, you ask?
Read more »