CRAZY RICH PETS ∙ PET ALL DAY
These 50 Famous Pets Have More Followers Than You
Humans no longer have sole proprietorship of the internet, that's for sure. Nowadays, they have to share fame with all sorts of pets, from cats and dogs to bunnies, foxes, tortoises, ducks, and even pigeons. The following famous pets have an online fan-base many of us would envy.
Since I'm pretty sure you've heard of extremely famous pets like Grumpy Cat, Nala the Cat, or Doug the Pug, I've selected 50 pets of moderate fame, which, even if they might not have a huge following, still surpass that of many humans.
50 Instagram Famous Pets
50. Kikoken Xandy
One look at this doggo's boopable snot and puppy dog eyes and I knew I had to include her in this top. She's a gorgeous 12-year-old Golden Retriever from Malaysia who enjoys staring at you knowing she will melt your ice cold heart.
Follower count: 6k
49. Gako
Gako is Naomi's handsome duck, that yes, has more than 7,000 followers. While looking at pictures of Gako, the famous duck, is certainly a treat, my favorite things are the videos in which we can see it enjoy a bath or trying to get some sleep.
Follower count: 7k
48. Layla the Labby
Layla is one of the most majestic dogs the internet has blessed us with, and I'm forever grateful for that. This beautiful girl is an explorer and mountaineer at heart, and you can tell she is enjoying every second of it.
Follower count: 8k
47. Kevin Bacon
Is there anything more satisfying than a pig called Kevin Bacon? I think not. He and his little sister, Gwen, are quite the Instagram stars in the swines category, and you just need to see them sleeping cuddled up to understand why.
Follower count: 8k
46. Misiu
This rabbit has a cooler haircut than you, and you can't convince me otherwise. Poland-bound, this 8-year-old Lionhead Dutch boy called Misiu seems to enjoy posing in front of ornate backgrounds and being walked with a leash.
Follower count: 9k
45. Chinchilla Love
Source: chintubehd on Instagram
This glorious family of chinchillas is bound to bring a smile on your face with just a few scrolls on their Instagram page. They haven't just conquered the Instagram world, but they have also taken over YouTube with their cute videos.
Follower count: 10k
44. Imschuh & Toffie
If Imschuh sounds like "in shoe," it's because that's exactly what it means. Imschuh and its pal Toffie are two Lionhead Dwarf rabbits from Berlin. Based on their Instagram feed, their owner has a keen eye for photography, and the bunnies are riding that fame wave.
Follower count: 11k
43. Louis
This dog seen here face down in the snow is Louis, a Coton de Tuléar living in Salzburg, Austria. By the look of his Instagram profile, he reaaally loves snow, but also cuddling, which is something I can get on board with.
Follower count: 11k
42. Rocky & Coco
Instagram seems to really love fluffy rabbits, and I can't blame it. Just look at Rocky and Coco, two fashionable German bunnies who are the bestest of friends, and tell me that you don't feel anything. I dare you!
Follower count: 11k
41. Hedgie
Surprise, Hedgie is a dog! A loving, adorable, gorgeous boy who was diagnosed with myasthenia gravis and megaesophagus, but who still lives his life to the fullest alongside his human.
Follower count: 11k
40. Roblox
If you find pigeons scary, you might hate me for this, but Roblox has about 14,000 Instagram followers, making him more famous than you. He is one-year-old, and he likes to be spoiled a lot, despite his often threatening appearance.
Follower count: 14k
39. Otter
By this point, I don't think anyone expects Otter to be an actual otter. He's a 9-year-old pitbull rescue born and raised in Philadelphia. He has a keen sense of style, and he sometimes looks like a potato.
Follower count: 16k
38. Pringle
Even if you're not a fan of bearded dragons, you can't deny that this is a particularly handsome and photogenic boy. While he doesn't look particularly excited to be the star of the show, I'm pretty sure he appreciates his dedicated followers.
Follower count: 17k
37. Beaubarr Cattery
Such a fancy name could only belong to a fancy cat, and Beaubarr is the very definition of fancy. From the tip of her perfect pink nose to the fluffy hairs on her puffy tail, this adorable Instagram catfluencer has conquered the heart of many.
Follower count: 22k
36. Rio
The eyes are the windows to the soul, and in this case, Rio's eyes say "I can't believe you've actually made me wear this hat." Photographer Brian Nguyen's Boston Terrier, Rio is living his best life on social media.
Follower count: 23k
35. Unizo
Unizo, dad of Ran-Maru and Tokyo internet sensation, is everything you could want in a pet hedgehog: cute, cuddly, and playful. Bath time seems to be his preferred pastime, but feeding time is a close second.
Follower count: 30k
34. Shishi Maru
Sitting like a person is one of the many things that brought fame to Shishi Maru, this expressive Scottish Fold. From contemplating the meaning of existence to snoozing in a lounge chair, her life seems pretty exciting.
Follower count: 31k
33. Nori
Did anyone say cutest hamster in Japan? This precious little baby can fit in the palm of your hand, and quite enjoys to be there, by the looks of it. Everything about him screams "follow me," so I obliged.
Follower count: 42k
32. HoneyB & BumbleB
Even if HoneyB and BumbleB, the two Labradoodle pictured above, are the stars of this Instagram account, they also share their internet fame with Jackson the pug and sometimes, Sasha the cat.
Follower count: 45k
31. Mr.Ginger, Snowy & Frieda
Follow Mr.Ginger for his cool haircut, Snowy for her priceless facial expressions, and Frieda for her awesome name and cute personality. Together, they form the Miracle Piggies, which is also a pretty cool band name Andy Dwyer would most certainly approve of (called it).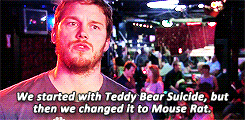 Follower count: 46k
Follow Mr.Ginger, Snowy & Frieda
30. Merlin & Phoebe
The 4-year-old Merlin and not even one-year-old Phoebe are two Samoyeds living in Seattle and sharing their life online with their nearly 50,000 Instagram followers. You will often see them playing with other fluffy dogs and smiling with their tongue hanging out.
Follower count: 48k
29. Chief Brody (and His Human, Sean)
Fittingly called Man and Bunny, this Instagram account follows the lives of a bunny called Chief Brody and a human called Sean. Ever since they found each other, they share everything, even a bed.
Follower count: 58k
Follow Chief Brody (and His Human, Sean)
28. Henry
Henry is an 18-year-old Sulcata tortoise from New York City, and one of the internet's most famous tortoises. Okay, maybe not as famous as Clyde, Sherlock Holmes' tortoise in Elementary, but definitely with a larger following.
Follower count: 53k
27. Jack
Meet Jack, a wonderful blushing boy from Brazil. Jack is a sunflower-loving cockatiel, and you can tell that just by looking at its feed. He also loves posing, by the looks of it, and he always seems to have a wicked smile on his face.
Follower count: 54k
26. Uni
The moment a racoon has more followers than you do, you know it's time you quit social media altogether. Uni is an example of such a racoon, a 4-year-old boy living in Taiwan. Contrary to popular belief, he doesn't eat garbage, but Pierre Hermé delicacies.
Follower count: 56k
25. Mr. Teddy Bunny
Mr. Teddy Bunny, also known as Poffertje (a traditional Dutch mini pancake – how cute is that??) is a Mini Lop bunny living in Sydney, Australia. He is quite the photogenic gentleman, although it is hard not to be when you're covered in fluff.
Follower count: 72k
24. Ms. Crumpet of Buttercreamshire
This list wouldn't have been complete without a corgi and its adorable butt. Take Ms. Crumpet of Buttercreamshire, for instance, who brightens the life of her nearly 100,000 followers. In her free time, she's also a personal trainer.
Follower count: 94k
Follow Ms. Crumpet of Buttercreamshire
23. PuiPui
I wish I were as stylish as PuiPui, this Tokyo-bound Holland Lop bunny who is so cute you could swear he's a stuffed animal. My favorite thing about his feed is how he and his owners recreate Sherlock scenes with PuiPui as the famous detective.
Follower count: 96k
22. Musashi
Don't be fooled by his grumpy act, Musashi is actually an adorable hybrid tabby. He is 11-years-old he enjoys sleeping and staring at the camera as if he doesn't enjoy being an Instagram celebrity. Oh, and he also makes a pretty cute Yoda.
Follower count: 121k
21. Tomiinya
I dare you to look into Tomiinya's baby blue eyes and not melt. She's a Russian Blue beauty from Japan whose up close shots are some of the best I've ever seen when it comes to famous cats on the internet.
Follower count: 127k
20. BuBu
This 8-year-old chinchilla is the queen of posing next to tiny props. Want to see her having a tea party or pushing a shopping cart around? Then become one of her almost 150,000 followers and you won't regret it.
Follower count: 148k
19. Melvin & Bianca
The day you realize two bunnies have a nicer bedroom than you is indeed a sad day. Still, I can't be too mad, because Melvin and Bianca, two adorable Swedish house bunnies, are clearly worthy of the most luxurious living conditions.
Follower count: 189k
18. Hatch & Nico
If you've gasped at the sight of these two long-haired miniature dachshunds, you're not alone. Hatch, age 15, and Nico, age 6, live in Japan, and they're about the most adorable tiny creatures the internet has blessed us with.
Follower count: 213k
17. Maymo
Known on Instagram as a "master of disguise & purveyor of skullduggery," Maymo is a Beagle with a flair for the dramatic. If animals dressed in costumes are your thing, you won't want to miss following this doggo.
Follower count: 224k
16. Sam
A cat with eyebrows is the sort of thing you never knew you needed but discover you can't live without. Sam's adorable black eyebrows on his snow-white fur might have gained him internet fame, but his cute personality is what made people stay.
Follower count: 245k
15. Digby & Aloysius Van Winkle
These two Griffons might not be conventionally pretty, but they are undoubtedly some of the most unique-looking pups online. They live in Wellington, New Zealand, where they seem to be having the time of their lives.
Follower count: 255k
Follow Digby & Aloysius Van Winkle
14. Chopin
Chopin is the representative hedgehog of the account he used to share with his two pals, Matthew and Darcy. He poses in the most creative ways, and he seems to always have a smile or a look of excitement on his face.
Follower count: 295k
13. PrincessMonsterTruck
If you've ever searched the web for cute, popular cats, then you probably already know Princess Monster Truck. She is a rescue from the streets of New York who proves that looks are not everything (even if, for me, she is still unbelievably pretty).
Follower count: 296k
12. Nala
Nala might have gained some of its popularity due to her humans, vloggers @Zoesugg and @alfiedeyes, but no one can deny she is adorable in every sense of the word. Given her parents' photography skills, you can find some really amazing shots of her on her feed.
Follower count: 323k
11. Popeye
Did someone say food connoisseur? Popeye the Foodie Dog is a former stray pup living in LA who is living his best life food-wise. If you want to see pictures of a cute pup and delicious food at the same time, this is the right place.
Follower count: 349k
10. Rexie
Rexie is the living example of the idea that a disabled pet doesn't equal one that is unable to live a happy life. With his two working feet and hilarious facial expressions, Rexie has stolen the internet's heart, including mine.
Follower count: 384k
9. Geordi La Corgi
I bet you didn't expect a model among the pets in today's top, and a butt model nonetheless. Geordi lives in LA and he has quite the online following. If you want to see his adorable, fluffy butt, you just need to scroll a little bit through his profile.
Follower count: 379k
8. Roux
The fact that she was born without her front legs hasn't stopped Roux in the slightest. She lives in New Orleans and even has a plushie made after her. Her lovable demeanor and kind eyes were enough for me to follow her.
Follower count: 578k
7. Henry & Baloo
The internet loves unlikely animal friendships, that's for sure, and a cat befriending a dog is a classic. Take Henry and Baloo, for instance, a catto and a pupper from Colorado who like to explore the world at each other's side.
Follower count: 1.2m
6. Suki
I've been following Suki the Cat on Instagram for quite some time, and I can honestly say she's one of the most beautiful and photogenic cats I've ever seen. Scroll through her feed if you're looking for cat in nature photos.
Follower count: 1.3m
5. Hosico
If you're familiar with the term chonk, you'll immediately recognize Hosico as the ultimate chonky baby. He is basically a real-life meme, and I can only imagine snuggling with this baby on a cold winter afternoon is, as Chandler would say, perfection.
Follower count: 1.4m
4. Coby
How does it feel knowing that, as much as you try, your eyeliner will never be as good as this cat's? Coby is a stunning snow-white baby with blue eyes that pierce your soul. Plus, the owner's description of it is every cat owner ever: "'The most beautiful cat in the world.'—Me"
Follower count: 1.5m
3. Smoothie
Fluffiness takes on a whole new meaning when you look at Smoothie, the internet's favorite ginger cat (apart from Garfield, of course). Everything from her eyes to her majestic mane seems to say "worship me, hooman."
Follower count: 1.8m
2. Coffee aka Mr. White
A brave cancer survivor, Coffee, also known as Mr. White, is 4 years old and chonky. He looks great as a hipster and has some of the cutest peets ever. He will brighten your day with just a quick scroll through his feed.
Follower count: 1.8m
1. Juniper & Fig
Oddly enough, the most popular internet pet on this list is not a dog, or a cat, but a fox. Well, technically, two foxes – Juniper and Fig. They kind of make me want to have a pet fox, and that says it all.
Follower count: 2.7m
Conclusion
Do you follow any of these famous pets on Instagram? If not, then you're clearly missing out. I would love to hear of any other famous animals that have a social media account (you can never follow too many), if you have other suggestions. Leave me a comment!