CRAZY RICH PETS ∙ PET ALL DAY
My Cats Taught Me the Best 37 Cat Life Lessons
Since I got my two cats, I realized they might be better at life than I am. So, I decided to observe their day-to-day behavior in hopes that I will learn some tips & tricks. I wasn't wrong.

In fact, the inspiration for this entire website came from me realizing there are many people out there who would love to have a place where they can share the funny, crazy, and endearing things their pets do.

To cut to the chase, from how to deal with people to finding the best places to sleep and getting humans to worship you, here are 37 cat life lessons everyone should learn from their furry bastards.
1. Everything can be a bed if you're brave and sleepy enough
(Source: Pinterest)
Humin doesn't need that bowl anyway, it's not like she ever cooks.
2. You can never have too many bags in the house (seriously)

(Source: Giphy)
"Shapes and colors the likes of which I've never seen"
3. Or cardboard boxes
(Source: Funny or Die)
Work it, girl!
4. OR rubber bands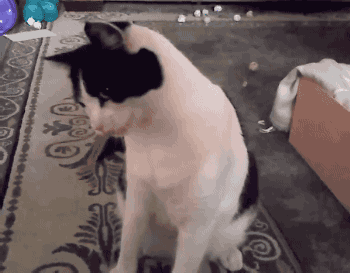 (Source: Funny or Die)
When your human forgets to feed you, just chew on them.
5. Just embrace that your belongings are all covered in hair, at least you're fabulous
(Source: Medium)
FYI: Pink hair will make your eyes pop!
6. Getting in people's way is hilarious
(Source: Duck Duck Moose)
What, you can't walk around with a cat attached to your leg? Weakling.
7. Any closed door hides a secret that you must discover at once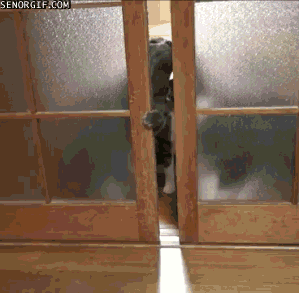 (Source: Gifer)
There's no time to lose!
8. Snow is only pretty to look at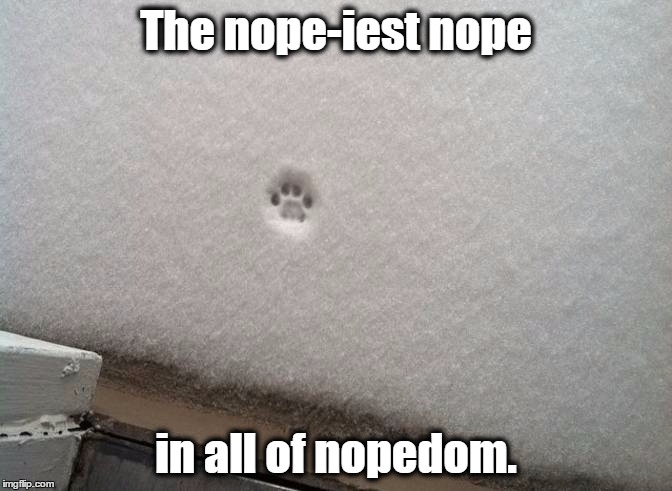 (Source: Imgflip)
You will never convince us otherwise.
9. In a relationship, you can fight and make up in a matter of seconds
(Source: Pinterest)
Life would be boring otherwise, wouldn't it?
10. Expensive things won't make you happy (but toilet paper might)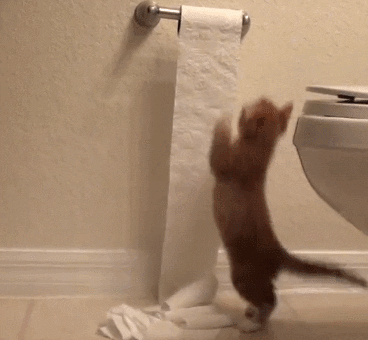 (Source: Giphy)
It's the small things in life.
11. Laptops are clearly made just to keep your hands/paws warm…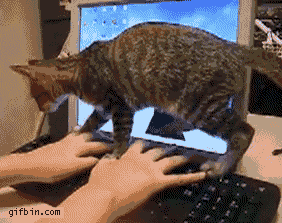 (Source: Odyssey)
Did you think I wouldn't sit on your hands? You were wrong.
12 …and those strange, two dimensional creatures on the screen are clearly hiding somewhere behind it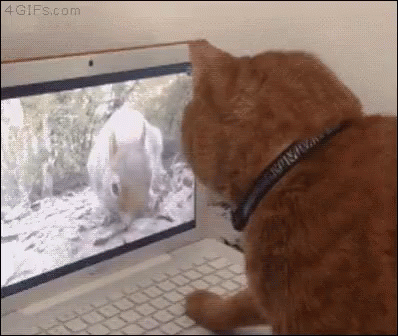 (Source: Tenor)
Quick, don't let them escape! Wait, what?
13. If the Lord blesses one place in particular, that is where you need to be (Source: BuzzFeed)
"Soft kitty, warm kitty, little ball of fur! Happy kitty, sleepy kitty, purr purr purr!"
14. People who turn on the light when you're sleeping are jerks and deserve to die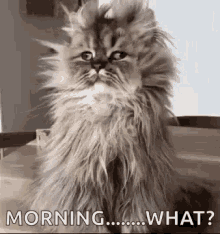 (Source: Tenor)
Oops, that's my morning hair, don't look!
15. Even if you don't feel like eating, you should always be there when your person eats (the closer the better)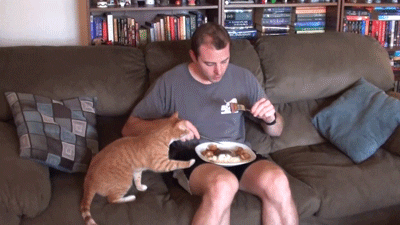 (Source: Giphy)
Whatchu got there?
16. Attention is best sought at 4 AM
(Source: Paws Planet)
It's time to wake up, Susan!
17. You will end up killing any type of plant in the house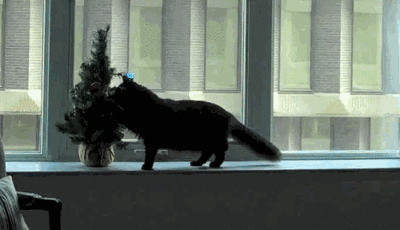 (Source: Ruin My Week)
Whoop, there it goes!
18. When you stock up on one type of food, you suddenly feel like barfing just when thinking about it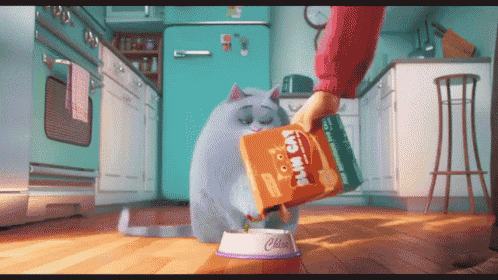 (Source: Tenor)
Are you fucking kidding me?
19. Every time is triggered time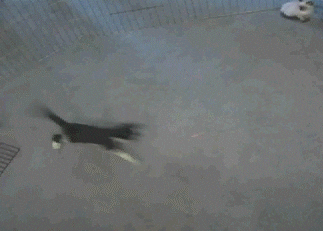 (Source: Giphy)
I must catch this tail that's following me.
20. If you ask me to eat leftovers, I will kill you in your sleep.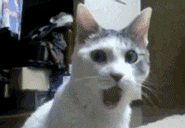 (Source: Giphy)
Who, me?
21. If you're cute enough, you can sit anywhere and no one will disturb you
(Source: Giphy)
No, it's cool, I can just hang out here.
22. Affection is only good when you want it. If attention is manifested at inappropriate times, it is your legal right to scratch the hell out of the person responsible.
(Source: Imgur)
Nope.
23. If you can communicate via meows with other human beings, it's true love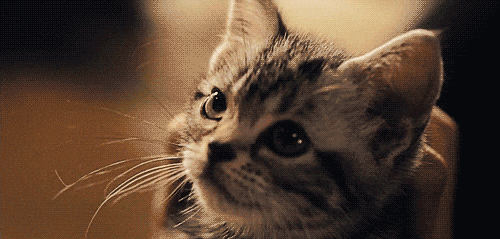 (Source: Giphy)
Meows are the best!
24. Rub your face on whatever the object of your attention is holding to shift that attention to you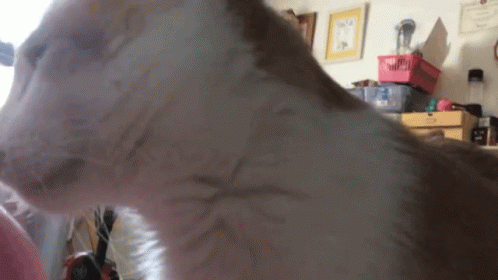 (Source: Tenor)
I am your one and only concern.
25. Dead things and trash should be acceptable gifts
(Source: TreeHugger)
Here, I bring you gift. You like?
26. Staring at your humin for 10 minutes straight should also be an acceptable behavior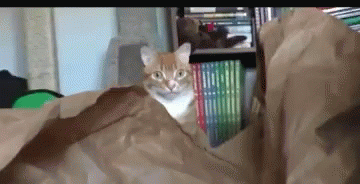 (Source: Tenor)
I see things that you could only imagine.
27. Sniff sniff, always sniff before you taste
(Source: Reddit)
Why do humans eat such disgusting things, I will never know.
28. Not all talented bakers are human

(Source: Gfycat)
Cuteness pie coming right up!
29. Keeping hydrated at all costs is important, you don't wanna be a crusty bitch
(Source: GifGifMagazine)
Slorp!
30. Weird facial expressions are the best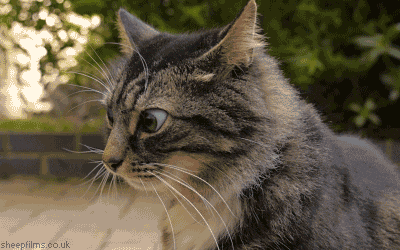 (Source: BuzzFeed)
404 cat.exe not found.
31. Sleeping face down is one of the best things ever
(Source: Reddit)
It keeps your nose warm.
32. Face massages make you feel sooo relaaaaxed
(Source: Pinterest)
Yas, human, just like that.
33. Social gatherings are the worst
(Source: Giphy)
Can I just stay home and broodingly stare out the window?
34. Stealing is baaaaad
(Source: Giphy)
But like also really really fun when you do it right under someone's nose.
35. Chewing on hair for fun, not sustenance
(Source: Giphy)
I'm sure humin wouldn't mind having to wear a wig if things get too intense.
36. Meowing loudly always gets you what you want
(Source: Giphy)
Pro tip: meow back at your cat when they're being obnoxious. They'll be very surprised.
37. Dogs are so easy to make fun of
(Source: Giphy)
I'll just spend my day torturing this poor bastard.
That's About It
What do you think? Does your cat do any of these things? Or maybe they have taught you other cat life lessons you'd like to share with us as well.
Don't be shy and leave us a comment (you can even include a picture), and together, we can learn how to be more like cats and win at life.
Article written by Andreea Voicu
Hi, I'm Andrea and I'm a writer, editor, geek, couch potato, and most importantly, animal lover. I have been proudly owned by my two cats, Sherlock and Smokey, for 2 years, and I am by no means ashamed to admit I am a crazy-cat-lady-to-be. How did my love for animals start, you ask?
Read more »